Software engineer at the Commission Competence Centre on Modelling
Models are extensively used by the European Commission to support policymaking. Notably, in impact assessments models are used to quantify the environmental, economic and social impacts of policy options.
I work on MIDAS platform to documents these models and their contributions to Commission impact assessments.
Latest activities
SOCRATES (SOcial multi-CRiteria AssessmenT of European policieS) has been explicitly designed for IA problems
Access to SOCRATESManual (pdf)
JRC has developed...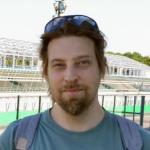 Personal links
Member