Search results (51)
Showing results 1 to 10
Knowledge service
Migration and Demography
The KCMD steering group has just adopted the next annual Action Plan, which outlines the priority working areas until end 2022.
The Joint Research Centre (JRC) just released new shapefiles on Mobility Functional Areas (MFA) before and during the lockdown across 17 EU countries. The new dataset...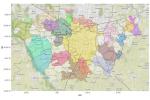 An unprecedented crisis has sparked unprecedented cooperation with European mobile network operators. JRC research based on mobility data produced evidence on the relationship between human...
EC Daily News 25/02/2021 Europe's ageing society: more labour mobility could help EU meet demand for health and long-term care workers A report...
EC Daily News 25/02/2021 Joint Research Centre analysis reveals divergent population growth, decline and ageing across Europe Today, the European Commission's Joint...