Search results (14)
Showing results 1 to 10
Knowledge service
Migration and Demography
News date
2020
Working together with African countries is a priority for the European Union. During Commission President Ursula von der Leyen's first official visit to Ethiopia, she stressed...
New studies published today by the JRC explain the relationship between human mobility and the spread of coronavirus, as well as the effectiveness of mobility restriction measures to contain the pandemic. The findings...
Today marks the International Day of Family Remittances. As the world deals with the fallout of the coronavirus pandemic, a new JRC report describes how falling remittances could remove...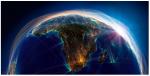 Low wages, lack of job security and social protection make migrant workers more vulnerable to the effects of the coronavirus pandemic.